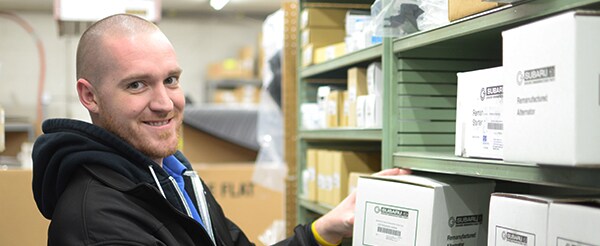 Some Advantages to Working at Carr:



- We provide the benefits needed in today's changing world.
Carr offers a broad health and benefit package which includes health coverage, paid life insurance and disability insurance, voluntary dental coverage, prepaid cafeteria plans for childcare and medical, 529 © college plans, and many additional voluntary benefits ; life, disability, accident and cancer coverage.

Carr supports a very lucrative 401(k) program with matching dollars and profit sharing.

Spontaneous "performance bonuses" are routinely paid to employees who make exceptional efforts for customers or who achieve high levels of performance. Individuals can and do make big contributions to the company, and they're rewarded for their effort.

Communication channels between supervisors and employees are wide open, ensuring a strong teamwork environment, good coaching and skill development and timely feedback.

We are technologically advanced; All of our locations are networked together to create ease of communication through telephonic or electronic ways. We are wireless. All of our employees have their own Internet access through their desktop or access to an available "Internet Hot Spot" where they may conduct research or further employment training. E-commerce is a huge part of our daily business.

- We are a family friendly company.
We understand that family comes first, and we encourage our employees to use flextime to take care of family issues and attend important family events.

We offer Education reimbursement to employees when it pertains to their job and also offer pay for training for our technicians and pay to keep their ASE certifications current or to achieve an ASE certification.

We host a huge annual Company picnic and close all 5 of our locations for the day, as it is important to us that all of our employees can attend with their families. And our Fixed Operations Departments over (150 employees) has an annual Christmas party with traditional menu and great door prizes.

The owners of Carr have an open door policy and always listen to our concerns or new ideas.
We offer part time and summer jobs to our employee's families first before advertising the positions and we always promote from within first before advertising to the public.


- We support various charities and community efforts.
We adopt some of our own families at Christmas, funded through our employees and matched by the company

We routinely raise money for our own employees going through a medical crisis or family crisis.

We donate thousands of dollars to community schools and programs and sponsor athletic teams and programs

We are very involved with Albertina Kerr, the American Cancer Society, Toys for Tots, Chevrolet Youth Soccer, Oregon Humane Society and Katie's Kause for Cystic Fibrosis, along with local area elementary and high schools.

- We have a wonderful recognition program:
We put Employee Kudos in our monthly company newsletter so that employees get peer recognition.

Top performers in various departments also get their picture in the newsletter and on our Facebook page.

We announce employee achievements and celebrations such as births, marriages, etc.

We put all employees birthdays and anniversary dates in the newsletter.

- We endeavor to make Carr a great working environment.
Carr sponsors periodic "FUN DAY'S" where employees get to relax, unwind and have fun while completing their work. And they win prizes for doing it!  For example: BBQ's for all employees, Different dress up days: Hawaiian shirt day, Halloween dress up, Scavenger Hunts. etc.

Carr offers a relaxed atmosphere by encouraging employees to dress casually in Carr polo or denim shirts with khaki bottoms, (pants in winter or shorts in summer) and Carr ski type jackets. We offer a wide variety of Carr logo wear for all employees to dress down in.

Seventy-seven of our employees have been with the company ten years or more. All employees have a name sign with their anniversary date on their work-space to acknowledge their time with Carr.

Human Resources checks in with all new hires at 1 Week, 1 Month and then follows up with the Supervisors that a 90-day review has been completed on the new hire. This process was implemented to help ensure each employees success with Carr.
Hours
Monday

09:00am - 09:00pm

Tuesday

09:00am - 09:00pm

Wednesday

09:00am - 09:00pm

Thursday

09:00am - 09:00pm

Friday

09:00am - 09:00pm

Saturday

09:00am - 09:00pm

Sunday

10:00am - 08:00pm