The 2021 Subaru Love Promise Customer and Community Commitment Award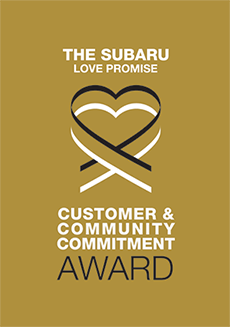 We've been nationally recognized for our dedication to our customers, our community, and the Subaru Love Promise.
We're honored to receive the 2021 Subaru Love Promise Customer and Community Commitment Award. This award nationally recognizes elite Subaru retailers who provide an exceptional customer experience at every interaction with Subaru. These retailers have also demonstrated an outstanding commitment to supporting passions and causes in their local communities in important areas such as the environment, community, health, education, and pets.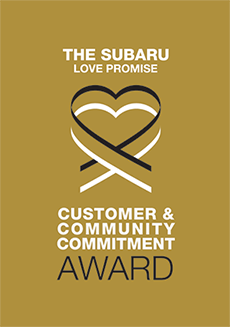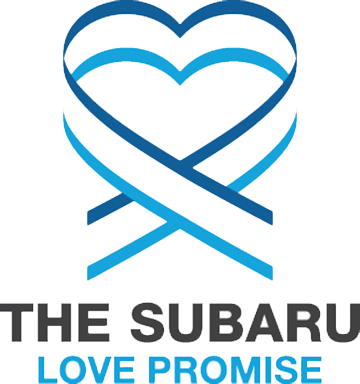 What is the Subaru Love Promise?
Subaru and our retailers believe in making the world a better place and the Subaru Love Promise is our vision of respecting all people. This is our commitment to show love and respect to our customers and to work to make a positive impact in the world.
How is Carr Subaru dedicated locally to the Love Promise?
Carr Subaru believes in making a positive impact on the communities in which we live and work. We uphold that belief through our Love Promise Community Commitment. Our Love Promise can be seen in various partnerships with local charities and non-profits. We're grateful for the opportunity, not only to be a part of our community but to serve it as well.
Oregon Humane society, Indigo Rescue
Habitat for humanity, The Freshwater Trust, Friends of Trees
Saint Mary's Home For Children , Local High schools
Albertina Kerr Centers, Toys For Tots , Sunshine Division , Make A Wish Foundation, Portland Rescue Mission, Good Neighbor Center, NW Association for Blind Athletes
Providence Children's Center, Tour de Cure, Leukemia and Lymphoma Society , American Red Cross , American Cancer society
Love Promise Stories from Carr Subaru
Subaru and Carr Subaru believe in making a positive impact on the communities in which we live and work. We uphold that belief through our Love Promise Community Commitment. Every month, we select inspiring stories from customers and partners from around our area who strive to support our collective commitment and feature them here
Creating Confidence, Friendship & Independence - Billy H
Northwest Association for Blind Athletes has been extremely fortunate to partner with CARR Subaru since 2018. CARR Subaru has generously sponsored our signature event, engaged their team members with our mission, and been a resource as we've grown over the years. We are proud to say that we had a record program year in 2020 despite COVID-19. CARR Subaru has helped us serve more individuals, introduce new programming, and fuel our growth. Thank you, CARR Subaru, for believing in our mission and helping us transform lives. We are truly grateful to have you as a partner.
---
Hometown Charity Love - Providence Child Center - Crystal L
Providence's most fragile patients just received some love from Carr Subaru Beaverton and Subaru of America - $62,000 worth of love. Subaru's "Share the Love" event was held from November to January, during which time Subaru donated $250 for every new vehicle purchased or leased to certain charities. Customers buying or leasing the vehicles were able to select a local charity from a number of choices. One of the charities offered by Carr Subaru Beaverton was Bill's Kids Fund at Providence's Center for Medically Fragile Children. The Bill's Kids Fund is named in honor of Providence Child Center Foundation board member Bill Schonely, who is also known as Mr. Rip City for his three decades as the play-by-play announcer for the Portland Trail Blazers. The $ Share the Love donation will support the round-the-clock care provided at the center for young people with profound disabilities and complex medical needs. This is the seventh year Carr Subaru has chosen Providence Child Center as its local charity, bringing its total contribution close to $700,000. "Only through community support can the Providence Child Center provide services to hundreds of children of all abilities to help them reach their full potential. Carr has engaged and leveraged resources to care for our community's youth and that is invaluable," says Crystal Logan, regional development officer/women's and children's health, Providence Foundations of Oregon.
---
Sharing the gift of warmth together with Carr - Renee B
Good Neighbor Center (GNC) has been caring for families who are housing insecure for over 20 years. We offer emergency shelter, care and resources for families for 6-8 weeks. We assist the families in overcoming the barriers that contributed to their housing insecurity. We employ 10-14 caring staff and in non COVID times, have about 1000 volunteers. We can do quite a bit with staff and volunteer support, however, the real support comes through our partners such as Carr Subaru. We are 100% reliant on funding through grants, donations, in kind items etc. We were contacted by Brad and his team regarding a gift of 80 blankets. Since COVID struck back in March we have not been accepting used donated items. With 9 families in shelter at any given time, we go through a lot of sheets and blankets. When Carr called and asked about accepting the blankets we were elated! Not only do we have the family shelter, but we are also serving housing insecure adults through the South County Severe Weather Shelter so we were able to share blankets with them as well. We are called to be kind. To show love and support to those who need it most. We are incredibly grateful for Carr Subaru's support. Thank you! In Service, Renee Brouse Executive Director, Good Neighbor Center
---
Carr Subaru supports Indigo Rescue on Halloween! - Heather H
For more than 23 years, Indigo Rescue has focused on catching the most vulnerable dogs that fall through the cracks of the Portland Metro animal rescue system. Our dogs have very special, individualized and often extensive needs—some physical and some behavioral. When shelters call us, it's because they have run out of options. This is why we are so excited about Subaru's Underdog Campaign. We are thrilled that Carr Subaru is partnering with us as we prove over and over again that animals with unique needs can make perfect, one-of-a-kind family members—but it's not easy. It takes resources, time and patience. For all these years, we have relied entirely on our network of foster homes, but we have never been able to keep up with the need. We are now very close to realizing our dream for a brick and mortar facility, Indigo Acres. It will include a "retirement home" for senior dogs, home-like settings for convalescing animals, whelping rooms for pregnant rescues, training areas for behavioral issues, and boarding facilities for tiny, elderly and medically fragile dogs. It will be a place where staff and volunteers will give many of these special dogs their first taste of a loving home. When Carr Subaru supports us with Halloween and Santa photo shoots, we all have a good time. But more importantly, our special dogs have a better chance for a good GOOD LIFE because of them and the Subaru family. We invite you to learn more about our work, our goals, and easy ways to help us with our project! Visit us at: indigorescue.org --Heather Hines, Executive Director, Indigo Rescue
---
Carr Subaru supports Children with Special Needs - Crystal L
Providence's most fragile patients has received more than $598,823 from Carr Subaru Beaverton and Subaru of America. Providence's Center for Medically Fragile Children is one of the charities offered by Carr Subaru Beaverton's Share the Love Campaign. The donations have supported the Pacific Northwest's only round-the-clock skilled-nursing center for young people living with profound disabilities and complex medical needs. "Carr Subaru continues to be a driving force in supporting the care we offer children around the state and has also helped programs that are powered by philanthropy to address each local child's physical, social, spiritual and psychological, which include the Swindells Resource Center, newborn research and our child life program. They are among the top tier of businesses in Oregon supporting our programs." - Diana Fisher, Executive Director, Providence Children's Health Foundation
---
Carr Subaru Loves Pets - Jane M
All of us at the Oregon Humane Society would like to thank all the Portland Subaru retailers for raising and donating $56,900 to us during the Subaru Loves Pets Event! This tremendous donation will help hundreds of pets and families right here in Oregon! The Oregon Humane Society celebrated its 150th anniversary this year and we could not do it without the strong support of Subaru and the local Subaru retailers.We would especially like to thank the team at Carr Subaru in Beaverton for their generous donation of $9,825. Thank you from all the Pets!!!
---
Subaru Loves Pets - Michael P
Through the Subaru Loves Pets Initiative, this October we are partnering with a local animal organization Oregon Humane Society to provide pet supplies and starter kits for new pet adopting families that will keep animals happy, healthy, and ready for a safe and loving home. Whether they live in our homes or in the wild, Subaru is committed to keeping all animal's safe and healthy. Together, we can help shelter animals be healthy – increasing their chances of being and staying adopted.
---
You Made a Huge Difference Today - Veronica G
Thank you to all the Subaru Ambassadors and staff at Carr Subaru for donating over 120 school bags full of supplies! We were shocked when you pulled up with 2 cars full of supplies. The 5th grade students at were very excited to receive these awesome bags full of pens, paper, tissue and other supplies. Thank you for choosing Vose Elementary School to be part of the Subaru Love Promise!
---
The Leukemia & Lymphoma Society & CARR Subaru - Michael Scott P
Subaru Share the Love: Together, The Leukemia & Lymphoma Society and CARR Subaru will spread hope, love, and warmth to cancer patients through small gestures of hope. The Leukemia & Lymphoma Society and CARR Subaru will donate blankets and messages of hope, written by CARR Subaru customers, to patients at the Providence Cancer Center in Portland, Oregon, and donate arts & crafts kits to children battling cancer. Thank you so much for your time today! What a great opportunity to see the impact of your community support. No sooner did we joke about the timing of handing out blankets in June, when that lovely woman approached us and asked if her husband could have a blanket because he's a cancer patient and he was cold. It reinforces that it doesn't matter what time of year it is – a blanket is always a welcome and comforting gift.
---
CARR SUBARU BEAVERTON "SHARES THE LOVE" - Michael P
PORTLAND, Ore. — Providence's most fragile patients received some love from Carr Subaru Beaverton and Subaru of American - $96,939 worth of love. "We are very privileged to continue to grow our relationship with Providence Child Center, and look forward to 'helping' in our future endeavors!" said Michael Parks, Digital Marketing Director, Carr Auto Group.
---